WHAT IS A "ROSARY" ?
Tradition shares: a "Rosary" is a "Garden of Roses".
It's Mary's garden. And she is taking us on a walk through her garden, and telling us the
scriptural life story of her son, Jesus, one rose (bead) at a time, from conception until
death. We respond on each bead by answering with the angels salutation ...
"Hail Mary full of Grace, the Lord is with you ...
Read about this first century icon of Mary and let her speak to your heart.
She has inspired each of us here at the Rosary Workshop
ADVOCATA NOSTRA
(first century icon of Mary)

DO NOT BE TROUBLED
OR WEIGHED DOWN WITH GRIEF.
Do not fear any illness or vexation, anxiety or pain. Am I not here who am your Mother? Are you not under my shadow and protection? Am I not the fountain of life? Are you not in the folds of my mantle? In the crossing of my arms? Is there anything else you need?' (Words spoken by the Patroness of the Americas - to Juan Diego on December 12, 1531)
+
"Behold I am with you till the end of the world'' (Mt 28)
+


A PLACE TO START
visit - each garden enclosed below
enjoy each garden you may find interesting. Dedicated to its own history and inspired by rare antique prayer beads. All metals hand cast from antique pieces in Sterling, solid bronze and white bronze giving us a sense of our Judeo-Christian history. Enjoy!
+
DON'T MISS
RMK
Mary
untier /
undoerof
knots

RWSP
Rosary
Workshop
special
people

RWCC
wedding
rosary
full
index

RTB
old
trade
beads
history

LEA
Limited Editions
(Antique)

LEC
Limited Editions
(Contempo)

LEHB
Rare Hand Made
(beads)

RAA
American
(bead artists)

RADM
(Divine mercy
(prayer)

RAFR
Antique filigree
(traditional)

RBB
Basic Black
(Honoring)

RBS-2
12 Birth Stones
(History)

RBW
Basilica Windows
(Rome)

RCAR
Car Rosaries
(basic)

RCKG
Christ the King
(gallery)

RD7S
Seven Sorrows
(7 x 7 ? 7x 10)

RDGA
Guardian Angels
(Michael)

RDHF
Holy Father
(Popes+)

RDLM
Day of Dead
(skulls)

RDND
Natural Disasters
(protection)

RDSP
Special People
(favorites)

RET
Earth Treasures
(stones)

RST
Sea Treasures
(Pearls)

RSTS
Sainthood
(4 Steps)


MORE SHORTCUT LINKS
(to pages on the Rosary Workshop site you may find interesting)



"We must fight evil by doing good."
LEARN MORE ABOUT POLISH PRIEST
FR JERZY POPIELUSKO
how does he tie in with the fall of the Berlin Wall and the fall of the
Socialist Republic (communism)? Inspired by Pope JP II first visit home
to Poland and his
"Be Not Afraid"

OUR *** 24th YEAR*** ON THE NET
ABOUT US - WHO ARE WE?
+
MUSEUM INSPIRED ROSARIES:
Rare, one of a kind collectable Catholic Rosaries, Chaplets and Religious Jewelry constructed to last many lifetimes. (items noted as limited collectable editions i.e.: ('I, II, III, IV, V') as unable to replace when gone, becoming heirlooms for many generations to come. And using:
+
RARE ANTIQUE BEADS:
We use antique beads, hand faceted crystals, precious stones, faceted pearls, fossilized corals, natural materials and handmade beads from American artists to make our holy rosaries.
+
HAND CAST METAL SUPPLIES:
All metal components are available individually in
SUPPLIES
link on top of pages. Each hand cast in solid bronze, sterling silver, (adding white bronze), from antique and vintage pieces. (Your only retail source on the internet for most of these crucifixes, crosses, religious medals and centers.) Dedicated to Our Lady of Guadalupe - giving visual glory to GOD.
+
pray the rosary for peace, unity and
healing in this troubled world



JERUSALEM (Madaba Map - late 6c)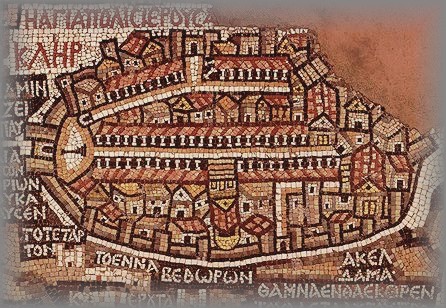 Pray for the peace of Jerusalem. May those who love
you prosper. (Psalms 122:6)
+
2 God, do not be silent; God, be not still and unmoved!
3 See how your enemies rage; your foes proudly raise their heads.
4 They conspire against your people, plot against those you protect.
5 They say, "Come, let us wipe out their nation; let Israel's name be mentioned no more!"
6 They scheme with one mind, in league against you ---
--- 19 Show them you alone are the LORD, the Most High over all the earth.
(Psalms 83:2-6,19)
+
ROSARY WORKSHOP
ober 2005, then will be delete