ROSARY WORKSHOP - HALLOWEEN CELEBRATIONS
*DIA de los MUERTO*
(DAY of the DEAD)
"ALL HALLOWS EVE"
A HALLOWE'EN DISCOVERY TRIP TO MEXICO CITY, MEXICO
Have you ever had the opportunity to celebrate a holiday in another country? To share their customs on a holiday you are very familiar with in your own country? Well, I must share my little miracle with you as I am strengthened every time I think of it. My understanding of the COMMUNION OF THE SAINTS has become more dimensional and real. And with what sounds like a depressing subject with all those candied skeletons and flowered skulls, is now seen as a delightful custom .... El Día de los Muertos (The Day of the Dead!) - Our Hallowe'en! Join me on my trip of discovery to Mexico along with two dear friends from California.
+




= DAY OF THE DEAD
A period of time, (31 Oct - 2 Nov) when many Latin American cultures believe the dead come back to visit with family and loved ones and enjoy the pleasures of their lives on earth. They join the living on this one day a year and celebrate the continuation of life. ('Remember, Relive and Enjoy'). This old tradition reminds us of the Communion of Saints.
+

October 29
(4 months after my husband died - to the day)
MEXICO CITY
Mexico City sits in the middle of mountains, a beautiful site from the air. A wonderful flight in and now it is good to be here! We are met by our corporate driver, Apolonio, a magnificent and gracious gentleman who could easily pass as an Aztec nobleman. We each have a goal in the City. Therese opted for Frieda Kahlo's studio//home and Marian chose the Museum of Anthropology. Mine was the Basilica of Our Lady of Guadalupe), and this would be our first stop. It is located in a poor section of the city - is it still across from a Dennys!
+

*BASILICA
of
OUR LADY
of
GUADALUPE*

Going towards the new Basilica, we walk past stalls packed with 1000s of brightly colored images of Our Lady, Rosaries candles and other religious articles typical of holy sites. We begin to see the Zapotec indians on their knees, moving closer, with their eyes set on the entry and their first glimpse of Our Lady of Guadalupe above the altar. Moms, Dads and little children, all walking on their knees! Some bring the Baby Jesus figure from their Church Creche for a special blessing. I begin to cry recognizing my own lack of fath.


| | |
| --- | --- |
| the old basilica | new basilica (dimensional windows) |
| venders selling souvenirs | images, rosaries, candles! |


THE LITTLE MIRACLE
I could not believe I was really here. My mind went back to last spring after my husband Peter died on the feast of Sts Peter and Paul (June 29th) after a long bout with cancer. The image of Our Lady of Guadalpe is over our fireplace at home and I sat there in front of her and secretly prayed, 'I am very very discouraged and need a sign. I would like to visit you, Madonna'.
++
Two days later, Marian called and said that she and Teresa were going to Mexico after the fair (A juried craft show we did every year in California). "Would you like to go?", she asked. I said, "yes, if we can go to Guadalupe." She said, "we are only going to Mexico City and Oaxaca." I said, "That's close enough!" And that was it - and now here we are standing in front of the image of Our Lady in the Basilica of Our Lady of Guadalupe! It was October 29th. I had no idea what was ahead!


| | | |
| --- | --- | --- |
| Juan Diego tilma / Mary | .... over 475 years before .... | still converting her children |


Behind the altar in the Basilica, there is a people mover that gives one a closer look at the image. I rode it several times to get the pictures above. No explanation as to why this image could possibly have survived for over 475 years on this loosely woven, fragile cactus cloth that you could see through. No signs of a paint brush ever touching its surface to originally create this image. Instead, the colors are laid on the surface like colors on a butterfly wing. This in itself is a miracle. The fact I was actually in front of the image, was my little miracle from God!
+
It is said Mary placed roses in Juan Diego's Tilma (A cape like garment) and when he opened it in front of Bishop Zumarraga, (who had secretly prayed for a sign of Castilian roses), the roses tumbled onto the floor. At the same time, her image appeared on the tilma (as seen above). To this day I wonder if there were enough of these rare, out of season December roses to form a living rosary. When we pray the rosary, she reveals herself to us in such a special way, sharing with us the scriptural story of her dear son, Jesus, one bead at a time from beginning to end !.
also see codice 1548 - first existing image
+
+
Wednesday, October 30th

*MUSEUM SHRINE*


+
Apolonio suggested we visit a small museum that had just completed settng up the traditional shrine for the El Día de los Muertos (Day of the Dead), a significant and lively holiday celebrated by the people of Mexico. (same as 'All Hallows Eve' or 'Hallow'een" in the US.) We were led into the museum by a single row of marigolds. (Marigolds are called the 'Flower of the Dead'. It is believed the deceased can 'smell' the aroma of the Marigolds and the fresh Bread and follow it to the shrine that has been set up for them. Thus the pathway of Marigolds.)
+


| | | |
| --- | --- | --- |
| entry with marigold path | shrine with cut tissue paper | bouquet of 'mary's gold' |
+


I was beginning to understand why Theresa and Marian wanted to come at this time of the year, I was apprehensive! But they were right. The 'Offrenda' (offering) Shrine was just being set up as we visited and we met the artist who is standing behind the door above. Mary's Gold? Yes, that is the traditional symbolic meaning for Marigold, so found the other thought interesting!
+
+=
We would begin to discover how local artists express their talents in food, paper, oil and sand paintings on the floor. Below is a great example of layered tissue paper cutwork (Papel picado). Look what happens to the tissue paper with proper lighting. My first response from a distance was a type of stained glass.


| | |
| --- | --- |
| shrines include favorite foods and breads | traditional tissue paper cutouts (above) |
+


Notice the items on the shrine. the skulls are decorated with brightly colored candy flowers. The skulls are usually edible and made of pressed sugar or sugar icing over baked goods. Bread (Pan de los Muertos) from home or market is very popular. Favorite foods and drinks of the deceased are present along with candles, pictures, personal items and other memorabilia.
+
+

*CELEBRATION of the SKELETONS*


+
Dancing skeletons abound in this museum exhibit and all over Mexico. The curator explained each one. This was so foreign to me, it was good to have this guidance as my first response was not good! I finally gave in to the artists humor, and it was a good thing as these dancing figures would be welcoming us on every turn of our trip in Mexico, especially during this holiday time!
+


| | | |
| --- | --- | --- |
| proposal or forgiveness? | seeking shade - sun burn! | dancing away the night |
+


While in Mexico City we also visited the incredible Museum of Anthropology which gave us good insight at the Aztec life before the coming of Cortez and eventurally the Vist of Our Lady of Guadalupe (1531). Her visit was almost 40 years after Columbus came to America in three prophetic ships called: Nina (girl), Pinta (paint) and Santa Maria (St Mary). We also visited Frieda Kahlo's home/studio where we saw a magnificent collection of tin Ex Votos. Theresa had been a dinner guest there years ago and wanted to see if it was still the same as a museum.
+
+
Thursday October 31


*OAXACAN SHRINES*

(The 'Vigil' or 'All Hallows Eve', beginning of 'Todos Santos')
+
On October 31, We left Mexico City for Oaxaca. Our flight was delightful! We flew through hundreds of little clouds that looked like little sheep being chased by big bear clouds. Then a tall cloud loomed out of the sky ahead that appeard to be a Christ figure standing over his people came into view. As we passed it, it turmed into an angel cloud - a wonderful sign of protection on this trip of learning ... We passed over two famous volcanos, Popocatepetl and Ixtacihuatl, the mountain of the sleeping woman, but other that that there was little more than beautiful green mountains and a few scattered villages below.
+


| | | |
| --- | --- | --- |
| offrenda with cut tissue paper | dancing skeletons / Guadalupe | marigolds (Mary's Gold) |
+


Oaxaca City is a favorite of Artists and Writers. It is pretty much as it was when Cortez came through in the 1500s. Samplings of the shrines or 'Offerings' (Offrenda) in Oaxaca (above) of the deceased loved ones are abundant during the Day of the Dead. It is said that if you did not set up a shrine with all their favorite things (foods, cigarettes, beer, etc), they would come back to haunt and pester you with all kinds of nasty little tricks all year long, so it was not really worth forgetting! We saw shrines in private homes, businesses and hotel lobbys along with sand paintings of holy figures (Sacred Heart of Jesus, Our Lady etc.) surrounded by frames of Marigolds on their stone floors . Only the imagination could hold one back! At the compound, (Casa Panchita) a small protected world where we stayed, we asked if we could ever eat the beautiful breads baked for the special day. Panchita said, 'yes but only after the holiday because the dead come and visit and take the 'spiritual essence' of the offering of the bread first, then we could eat it! A few days later, we did!
+
+
Friday, November 1

*FRIDAY MARKET*


(All Saint's Day)
+
Today, we head for Friday Market in Ocotlán to join the local villigers.What a wonderful way to spend All Saint's day! We were the only Anglos there - then saw friends from the Bowers Museum (Costa Mesa CA)! From cooking foods, baking breads to marigolds and red coxcombs - sugar skulls decorated with candy flowers - aromas for the nose and eye brought forth God's blessings! Colored canopies of old rugs and blankets kept venders out the sun. Great music (CDs in boom boxs) added spirit to the shopping day. Local arts and crafts abound. Oaxaca is known for its celebrated artists down to the traditional embroidered clothes in reds, yellows and purples. (They shied away from cameras and I respected their privacy.) These colors are even richer when wrapped and woven into their beautiful long black hair.
+



friday market - Ocotlán


Crispina is honored!

s
San Bartolo Coyotepec
+


Next we went to Santo Tomas Jalietza where we purchased beautifully woven belts. But the highlight was Crispina, our dear young lady (in the middle above) who holds a book that showcases her weavings. I love the bag I bought from her to this day! Again, the aroma of food cooking permeated the courtyard. Her mom invited us into her kitchen for chicken mole with chocolate sauce - it was delicious! In her simple and mostly bare kitchen, she had a beautiful collection of the local black pottery hanging on the walls. A small cooking fire was burning on the side and in the center of the room, an extension cord came down from a light fixture in the ceiling and was plugged into an Osterizer on the table - for making mole!
+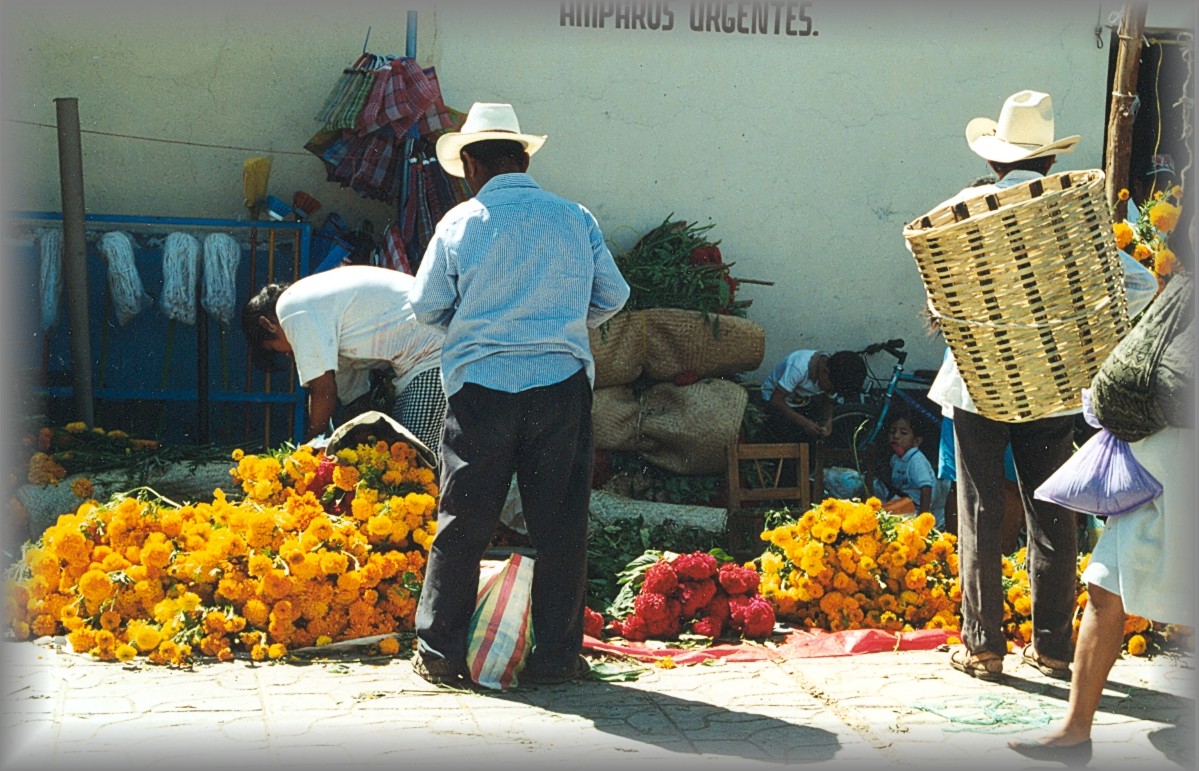 marigolds (Mary's Gold) for the shrines
+
Then on to San Bartolo Coyotepec to pick up some black pottery made famous by Doña Rosa. We ran into the Bowers Museum folks again for the third time! Back to town and to the The Basilica de la Soledad to visit the patroness of Oaxaca, Our Lady of Soledad. A beautiful way to spend the day. Then back to Panchitas, our little walled compound, where we join back up with our newly found friends - Three lovely people, Bill Goldman, (art collector from Chicago), Ann Reuter (teacher from Chicago) and Hal Larsen (artist from Santa Fe). The six of us became great traveling companions through the next week of discovery.
+
+
Saturday November 2

*MASS AT SANTO DOMINGO*

(All Soul's Day)
About 10 in the morning, the six of us headed off to the magnificent 16th century 'Templo de Santo Domingo', the pride of Oaxaca - for 11a Mass. Bill suggested we go early as he said there will be a little lady who will open the church by singing praises to God before Mass. And she did. She opened the door to the church and tourists (including us) obediently followed her in. When the tourists became a bit noisy, she was quick to clap her hands and loudly reprimand them - loud enough for all to hear! Then she began to slowly walk down the aisle singing praises to God before Mass started. She knew how to fill that holy space with beautiful praise!
+


| | | |
| --- | --- | --- |
| Approaching Santo Domingo | Golden Altar - Santo Domingo | singing praises to God |
+


It was hard to believe so much beautiful music could come out of such a tiny frame! After the priests celebrated a beautiful Spanish Mass, she opened the side gates and proceeded to lead us into the gift shop where she sold souvenirs, postcards and rosaries! After a quick visit we headed for the old convent attached to the church to see the exquisite collection of gold jewelry from Monte Albán, a large pre-Columbian archaeological site on top of a local mountain.
+
+
Saturday November 2

*VISIT to the CEMETERY*


(All Soul's Day)
+
Bill was very familiar with the area and the artists. He encouraged a trip to a cemetery about 30 minutes away (Teotitlán del Valle.) His Weaver friend, Ismael Gutierrez, took us to the gravesite of his father. It, like all the others, was adorned with flowers: Red Coxcomb, marigolds and glads were mixed with roadside wildflowers. Favorite foods, cigarettes and drinks mingled with family photos and Guadalupan votive candles. All this made the grave marker hardly visible to the eye. Mescal (Tequila) flowed abndantly among the happy relatives and friends sitting by the graves of their loved ones, visiting and enjoying themselves. A very dear, old woman in full native garments offered me Mescal 3 times! I was so taken by her clothing (my major was old textiles and her garments were museum quality) I could not answer her! I could only shake my head and sputter out, 'no thank you' in English!
+


| | | |
| --- | --- | --- |
| grave markers | hidden headstones | last rays of the day |
+


Crucifixes and grave markers were temporarily removed and stacked next to a tree to make more room. And again, Marigolds were the traditional flowers of choice. Camdles flickered amongst the flowers and as the sun began to set, the whole grave yard took on a totally new mystical countenance. A warm, loving presence came over the grounds and one could feel heaven so close! And these beautiful people had taken us in as if we were family. Some would bring blankets and spend the night.
+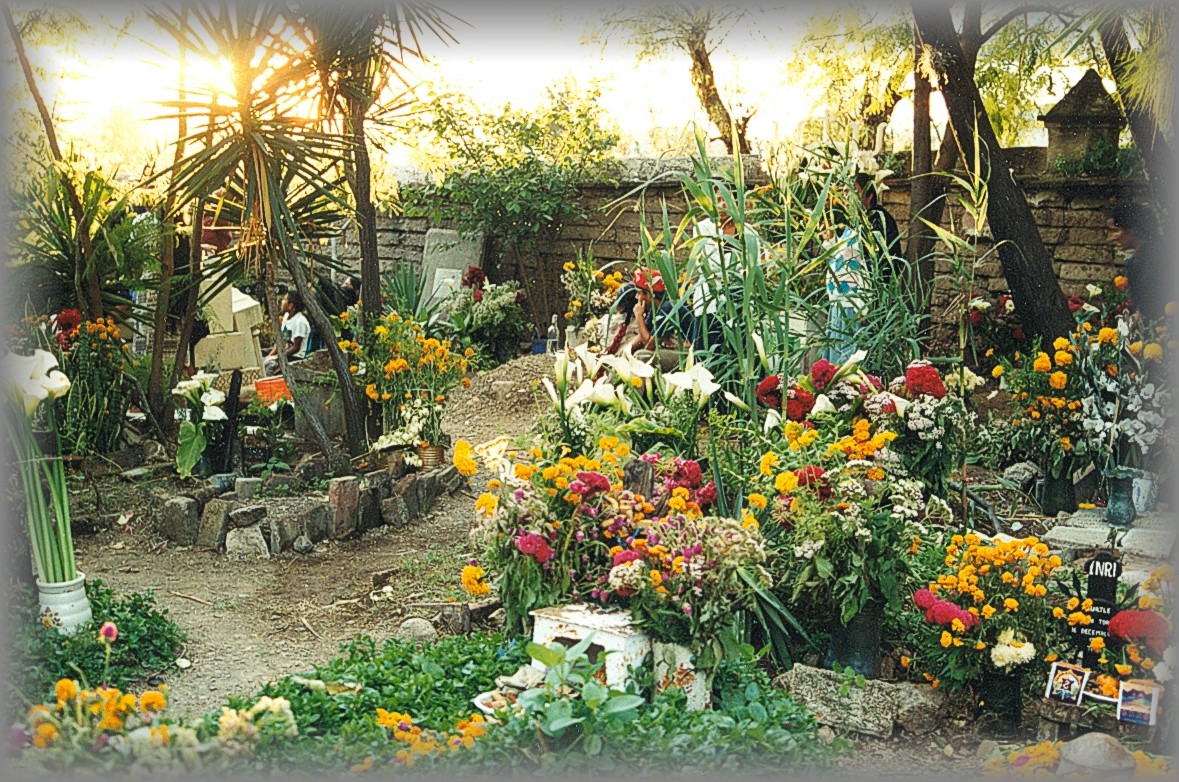 a setting sun gives in to flickering candles
+
Back at Panchitas we donned a collection of Hals masks (see below) and had a parade through the house ending up in the kitchen where Panchitas family was. (We had to wonder what happened to the new guests from Chicago having dinner in the dining room as we never saw them again! They didn't look too impressed with us as we marched by in our masks.) After our dinner, the family children came by our rooms and knocked on our doors for 'tricks or treats' US style. It was a great way to spend the holiday. Later that night, you could hear marching bands of musicians weaving back and forth through the streets of the city playing joyful music on tambourines, trumpets, drums, trombones and tubas. And then all of a sudden about 2:30am - it all stopped - and it was quiet again.
+
+
Sunday November 3

*FOND MEMORIES ETC*

highlights from the rest of the week
+
LEFT; Theresa at the weavers at Santo Tomas Jalietza. With Our Lady of Soledad in front of us, MIDDLE: Marian cuts little vintage metal arms, legs, cars, cows, etc, called Milagros (miracles) from the traditional red venders cloth that holds them for the faithful. The Faithful take them into the church and offer them to the Virgin with hopes of a healing. (An ancient Aztec custom, pre Guadalupe - 1531). And to the RIGHT; our friends Bill, Hal and Ann in front of Santo Domingo Church, waiting for the doors to open. People make a difference and the six of us shared uniquely individual gifts with one another - I learned so much about the history of the area and of the customs and the celebration of El Día de los Muertos - The Day of the Dead - Our Hallowe'en, All Saint's Day and All Soul's Day! Thanks to each one of them.
+


| | | |
| --- | --- | --- |
| Theresa at Jalietza | Marian collecting milagros | waiting for Mass |
+


The rest of the week was spent collecting treasures, visiting the many museums and galleries in Oaxaca - and then - beginning to wonder how we were going to pack all our treasures and get them through customs!
(My treasure was a very old, very primitive, 24 in. hand carved image of Our Lady of Guadalupe. I hand carried it home.) Before we left Panchitas, one of the young sons asked us to sign their guest book and our names joined those of the Rockefellers (Collectors of Mexican folk art), Bette Midler and family, Stanley Marcus (Neiman Marcus) to name a few! Panchita has a magnificent collection of Latin American folk art herself, some of which were being shown in Mexico City while we were there. Yet this beautiful lady took care of us like a family member, cooking our delicious Mexican cuisine, cleaning our rooms and washing our clothes!
+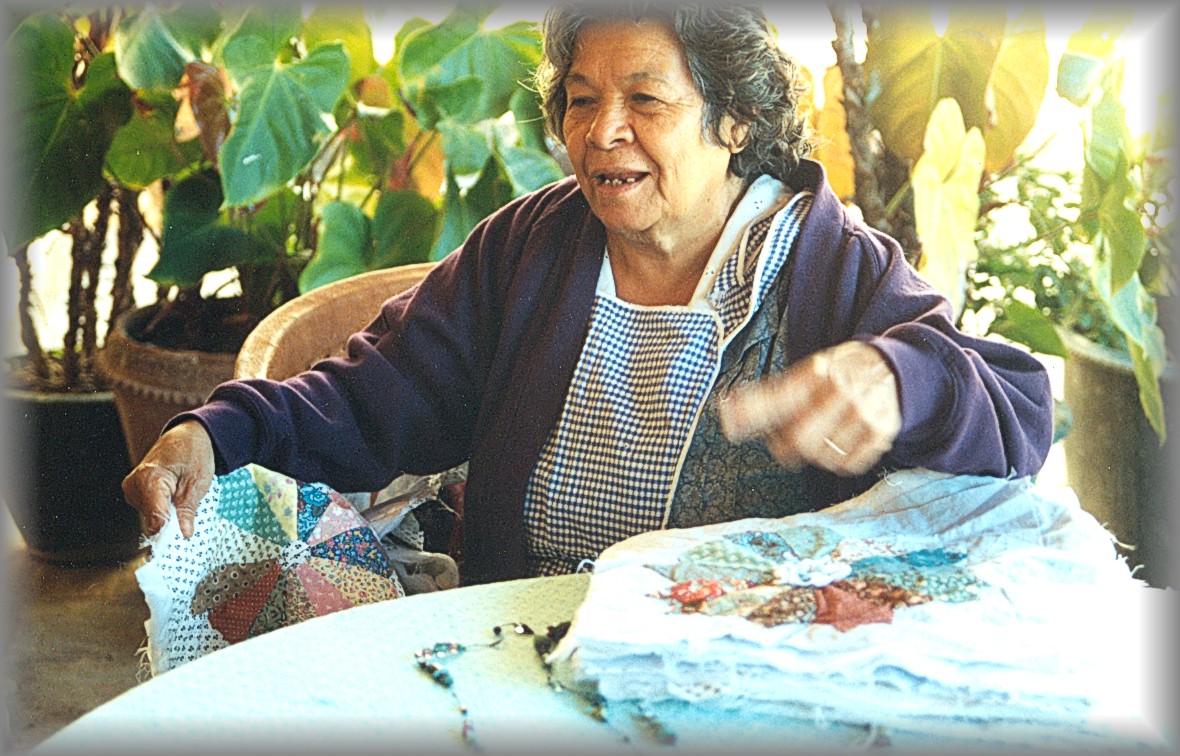 Panchita & her beautiful quilt
+
I learned a great deal about our Hallow'een through the Days of the Dead and hope you did too by seeing these images. There is no better way to understand this vigil and the two feast days that follow than being in Mexico City and Oaxaxa. Many of these customs come from the Zapotec and Aztec but I have concentrated more on the 16c Spanish Catholic influence. I learned how close heaven is, how close our loved ones are that are deceased and in the world of the Communion of Saints. I learned that a sense of humor has its roots in God's own heart! Until next time:
+
BACK ROW: Marian and Hal.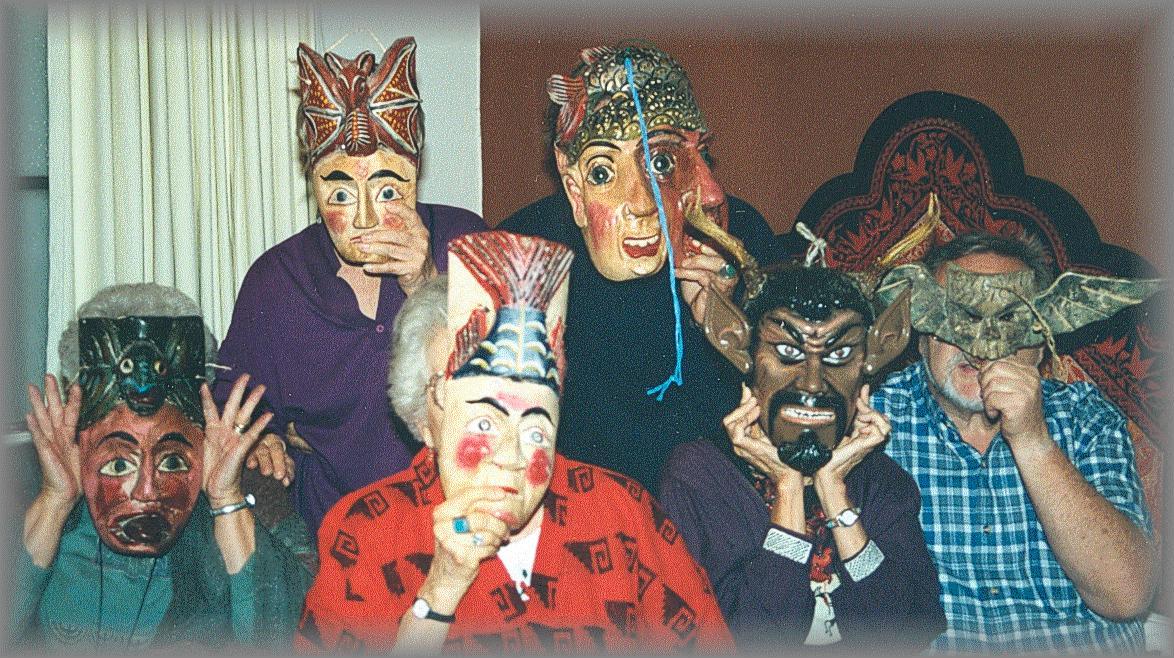 booo!
FRONT ROW: Margot', Ann, Terese, Billot
+
+

*MUSEUM INSPIRED ROSARIES*

SKULL ROSARIES HAVE AN EARLY TRADITION THROUGH 1800s
A SPLENDED REWARD

RDLM.2800

ATONEMENT ROSARY

RDLM.21310
OURS INSPIRED BY ROSARIES SEEN IN MUSEUMS / BOOKS. POPULAR WITH RELIGIOUS
(copy and paste link to "SHOPPING STORE" below for more info or to order)
ROSARY WORKSHOP
MISSION STATEMENT
Our vision is to provide the finest handmade rosaries, chaplets and other fine religious art forms for personal worship we can make using the finest supplies available. The Guild believes the work of our hands should give visual Glory to God, therefore for us, the best for you is very, very important.
++++++
QUESTIONS? ask us:
copy and paste now
beadsong@hotmail.com
OR CALL WEEKDAYS - 9 to 5central
877.695.3561

MUSEUM - HISTORY - PRAYER
STUDY - SERVICE - COMMUNITY
PRAY THE ONLINE ROSARY NOW
to return to page you were on,
pl use your back button
TOP OF PAGE

OFFICE HOURS
877 695 3561 - 9a - 5p central)
WEEK DAYS - MT- TF - (closed wednesdays)
Shopping cart - Email (24/7)
beadsong@hotmail.com

DON'T MISS OUR VISIT TO
THE BOWERS MUSEUM (in California)
WHEN THEY HOSTED THE GUADALUPAN COLLECTION
from the MEXICO MUSEUM BASILICA in MEXICO CITY !