rosary workshop - gallery OLG room
*OUR LADY of GUADALUPE*
WHITE STARS ON BLUE, RED AND WHITE STRIPES


*OUR LADY OF THE AMERICAS*
enjoy our gathering of images of Our Lady of Guadalupe, a collection from an exhibit at the Bowers Museum in Los Angeles CA on loan from the basilica in Mexico City. (Note thhe white stars on her blue mantle (background) and the rays of red and white around her)
+
COLLECTION FROM
THE BOWERS MUSEUM
We saw A remarkable collection of works at the Bowers Museum (Costa Mesa CA) in 1995. It was on loan from the Basilica Museum of Our Lady of Guadalupe (Mexico City) A few years later we visited the Basilica of Our Lady of Guadalupe Museum in Mexico City and were again blessed to see this amazing collection. We regret we only have space to show a small segment of this collection.
+
MILAGROS and EX VOTOS
+
MILAGROS
Milagros (also known as an ex-voto or dijes) are also called 'little miracles' They are little folk charms that come in many shapes such as body parts, cars, trucks, animals, depending on the request for healing or needs made to a particular saint or to God. They are usually made of metals, or carved from wood, bone or wax. Some believe they were used by the Aztecs to offer their gods then transferred over to Our Lady after her appearance. Others believe the custom is more universal.
+
EX VOTOS
Like ExVotos, you see them attached to altars, shrines, and sacred objects found in places of worship such as Latin America and Europe witnessing to answered prayers. Street Vendors sold them to the faithful outside of churches and cathedrals.
+
EARLY COPY AND PASTE?
We asked why there were so many large images that were the same size as the original and it was explained to us that they would lay oiled paper over the surface of the original (maguey cactus cloth) and trace it. The artist would then paint it as closely as possible to the original. There was a huge market for these full sized paintings in Europe.
+
A REMARKABLE DISCOVERY
These early copies brought home a rather remarkable discovery that is not seen so much in the softer tones of the original icon of Our Lady of Guadalupe that appeared on the tilma of Juan Diego in 1531. The copies are brighter and stronger in color and show the imagery much clearer - to learn more, scroll down just below the original and read. We leave it to you ...

see blue, stars,
red and white stripes?
IMAGES OF OUR LADY
PATRONESS OF AMERICAS - OUR FLAG
continue:
EX VOTOS - MONSTRANCE MYSTERY
MISSION STATEMENT ? LINKS
dont miss
ALL HALLOWS EVE - DAY OF THE DEAD

"Am I not here who am your Mother?


*OUR LADY, PATRONESS OF THE AMERICAS*

Note the starry blue field of our flag below. Then look at the mantle of
Our Lady of Guadalupe on the tilma of Juan Diego. See how the red and white
rays around Our Lady and the red and white stripes of our flag!
Once seen it is hard not to see!



Are you not under my shadow and protection?
Am I not your fountain of life?


Are you not in the folds of my mantle,
in the crossing of my arms?


Is there anything else that you need?"
(Spoken to Juan Diego in 1531)



*EX VOTOS*
A VOTIVE OFFERING
An ex-voto or retablo is a votive offering to a saint or holy person, in this case, Our Lady of Guadalupe. They were given in fulfillment of a vow (Latin term, short for ex voto suscepto, "from the vow made") to offer thanks or devotion. The purpose was to show gratitude for healings, rescue, agricultural issues such as a call for rain and good crops. (San Ysidoro Labrador)
+
ExVotos were traditionally oil on tin (rare: wood or cloth) and reflected the folk art of the area (Spanish Colonial). Their general size was about 10 x 14 in and were popular from the 17 - 20th c. They would be placed in a church or chapel where the worshipper seeks grace or wishes to give thanks. The destinations of pilgrimages often include shrines decorated with ex-votos.


*MONSTRANCE MYSTERY*
Monstrance (Latin word monstrare, meaning "to show"). When photographing the exhibit, I was struck with how the Monstrance would align at certain angles with the image of Our Lady on the back wall. How it appeared to frame the Virgins womb where the preborn baby Jesus slept. Note too the 'luna' that normally holds the Consecrated Host (Eucharistic Christ) during exposition, appears like a supportive moon. Also note the tiny bells that are traditionally rung when the Monstrance is lifted for adoration!

MONSTRANCE FRAMES IMAGE
OF CHRIST IN MARYS WOMB

LITTLE MILAGROS FORMING
A LARGER DESIGN

EARLIEST KNOWN
IMAGE OF GUADALUPE
CODICE ESCALADA - 1548 (image lightened)
Oval shape (far right) shows Our Lady of Guadalupe. Note mountains in the center. painted by Antonio Valeriano and signed by Bernardino de Sahagun.



WANT TO KNOW MORE ABOUT
*ALL HALLOWS'EVE*?
(HALLOW'EEN)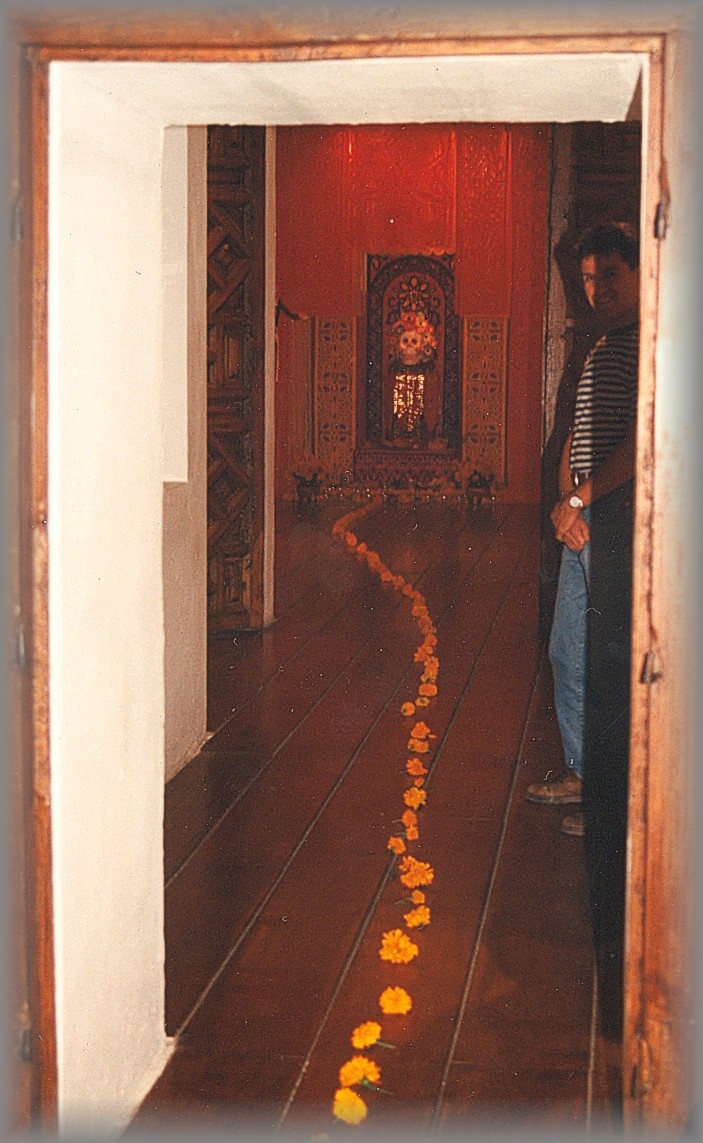 or more about
*DIA de los MUERTO*
"DAY OF THE DEAD"
AND THE ANCIENT TRADITION AND HISTORY
IN THE WESTERN CATHOLIC CHURCH?
+
ENTER HERE! ONLY IF
YOU DARE

MORE HISTORY AND ITS
ANCIENTCELTIC BEGINNINGS